Matt's Plumbing Solutions: Minnesota's Front Runner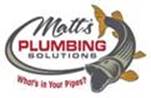 If you live in Minnesota, there's a plumber you should know of.  Matt's Plumbing Solutions services Minneapolis, St. Paul and surrounding areas throughout the state. He is highly favored for his expertise and level of understanding when plumbing services are required. Matt has skillful mastery in both home and business plumbing solutions for bathroom and kitchen drains, basement, sewer service and maintenance, pipe repair or replacement and much more. Matt's customers have given him an A+ rating. His reputation for excellence speaks for itself. Here's what people are saying: "He was prompt, personable, professional, and a great guy to work with", "fast response & repair, goes above and beyond". Whatever your plumbing needs, outside or inside your home or business- give Matt's a call. He's endorsed with over 14 years of know-how and quality workmanship. Matt's Plumbing Solutions now offers Perma-LinerTM trenchless pipe repair, eliminating the need to excavate and replace old sewer lines.   Many pipelines in Minnesota are in need of relining due to the simple fact they have been around, in some cases, for over 50 years. It's true that an ounce of prevention is worth a pound of cure. It's also true that toilets and sinks leak and drains clog. With skill, professionalism, courtesy and affordable prices, you can't go wrong.
Matt also offers 24/7 emergency services.  He says he can be at your residence or business immediately when you call 612-756-8138. He'll also make sure that a solution is found to meet your specific needs, budget and time requirements. While many residences have similar concerns, there are also very unique circumstances which he will address with compassion for the individual, and attention to the problem. Someone with vast experience, a multitude of resources, and an outstanding reputation for problem-solving proficiency is always the one to choose. Contact Matt's today to schedule an appointment so he can provide you with an optimum course of action for plumbing services, tailored specifically for your home or business. info@mattsplumbingmn.com or call 651-341-5899.